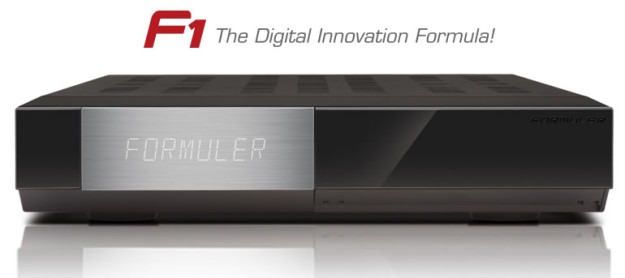 Formuler
 is a new brand of Enigma based receivers. Formuler takes inspiration from the Motorsport series Formula One for their receivers. They currently offer a single Tuner receiver called F3 and a tripple tuner top of the line receiver called F1
. This review is about the F1 receiver but we have also reviewed the F3 click here for that review
Formuler F1, design and connectivity
Formuler F1 is a twin tuner tuner receiver which offers a slot for an optional third tuner (DVB-S2 or C/T2). Suggested retail price is 289 Euro.
Key Features on the Formuler F1
CPU / Chipset: BCM7356B2
1300 MHz
Flash 512mb nand 1gb ram
2 x SAT Tuners Fixed and 1 more optional tuner slot for SAT, or Terrestrial / Cable Reception
2 card readers
1 ci slot
Three USB 2.0 Host ports and SD card slot (for Video file Playback & MP3 Player & JPEG Viewer)
1 e-Sata port
10/10M / Gigabit Base Tx Ethernet port
The Formuler F1 is a compact receiver and in traditional black design which is only interrupted by the 8 character alpha numeric display. This VFD front display is of course an upgrade over the one used on the Formuler F3. We like the F1 display much better.
The F1 is still a pretty compact receiver but of course bigger than the F3. The F1 measures 260 x 55 x 210.
Behind the front flap we find 2 internal card readers along with a common interface slot. That is probably plenty for most people. Also conveniently located here are an USB port and a sd card reader slot which is great to see.
Apart from a standby button which is placed discretely on the side you need the included remote control.
The Formuler F1 has room for a bit more connections than the F3 and it takes advantage of this. Good selection of outputs available.
On the back we find these connections:
2 x  LNB in
Optical digital audio out
HDMI
Ethernet port
2 x USB
e-Sata
Component video out
Composite video out
Analogue audio out
Serial RS-232 port
Power connector
Formular F1 Tuner installation
Along with the 2 fixed DVB-S2 tuners you have the option of installing a third tuner module in Formuler F1. This can be either a DVB-S2 or DVB-C/T2 hybrid tuner module.
The installation of course requires you to take the cover off and then carefully install the module into the slot. The pin solution on the tuner modules are perhaps a bit more difficult to install than slot in tuners as seen on other receivers but works fine if you are careful.
Formuler F1 what is inside the box
The Formuler F1 is delivered with:
Power adapter
Remote with batteries included
HDMI cable
Quick install guide
Here is an unboxing video made by a third party
The Formuler F1 Remote
The included remote does not look or feel high end but it does fit quite nicely in the hand with the buttons sensibly positioned. Most buttons are reasonably sized.
Installation and Image support
The Formuler F3 came with software preinstalled from the German Team OpenATV. You also can use HDMU image available here
Both images are of course Enigma variants and more options are coming Formuler tells us.
What Image you choose is pretty much a matter of personal taste.
Installing an Image on the Formuler F1
It is easy to install a new image. Simply download the Formuler f1 image you want and put the formuler1 folder on a USB key.
Y0u put the USB key into the front port on the Formuler F1 one and connect power to the receiver then it starts flashing automatically.
Here are some screen shots from the OPENATV image
Daily use
Booting speed
Since it is called F1 you would expect this receiver to boot fast and it does. We meassure 35 seconds on the HDMU Image.
Boot leaderboard
Picture/tuner quality, zapping speed
Channel zapping is very fast and you can of course play around with the on screen graphics look by downloading and changing skins. We also have no complaints about picture quality.
We had no problems finding all DVB-C channels when we tested out the hybrid optinal DVB-C/T2 tuner module
PVR and Multimedia playback
You need to add an external e-Sata or USB 2.0 storage device to add the option of recording tv on this receiver. With up to 3 tuners you have plenty of options both for recording and watching a different channel at the same time. HBB TV is not yet support but Formuler tells us it is planned some time in the future.
Like most Engima based receivers the Formular F1 serves well as a media player, playing video, music stored on the box hard drive or your home network. Do not expect every file format out there to be supported. But common file formats are handled pretty well.
Formuler F1 Review Conclusion
The Formuler F1 is a great receiver. With support of up to 3 tuners with the third one optionally for satellite, cable or terrestrial you have a lot of options.
The F1 has been stable to use during our review and very fast too. Should we add a wish it would be transcoding support like on the Vu+ Duo2 and others but not all really need this feature…
Users who prefer internal PVR option of course have to look for a different option as the F1 does not offer this.
**********************
Comments (0)
No comments at this moment